Mayoral hopeful Miguel Rivera used an image of a Waukegan resident in his latest mailer. However, it appears that he did so without the consent of the pictured individual. Brian S. McClain Sr.  was plastered on Rivera's mailer but the problem is that image was taken years ago and McClain is a staunch supporter of incumbent Mayor Sam Cunningham. A statement from McClain's Facebook page makes quite clear that Rivera is misleading the public by suggesting an endorsement that does not exist and is not entitled to use the image..
"Brian S. McClain Sr. was informed that his picture and name were being used fraudulently and illegally as part of a political agenda to elicit votes for a political candidate, Miguel Rivera who's running for mayoral office in Waukegan, IL. Mr. McClain did not authorize Mr. Rivera to distribute his name or photograph in any mail flyer, political content, or other communications. The flyer was not posted on Facebook where Mr. McClain would immediately see the content, which indicates the intent to conceal its distribution from Mr. McClain as Mr. Rivera is an avid user of the social media platform.
The act was not only malicious, it was premeditated as the photo was taken years ago. This indicates Mr. Rivera's act was intentionally devised to deceive the public and to conceal the flyer from Mr. McClain. After the flyer was sent via text message to Mr. McClain, he immediately contacted Mr. Rivera to let him know that this act was unacceptable, malicious, and fraudulent as consent to use any photo for political gain by Mr. Rivera was not given by Mr. McClain. Brian has previously stated on several occasions to Miguel that he does NOT support the Miguel Rivera mayoral electoral campaign.
Mr. McClain is extremely displeased and disappointed that Mr. Rivera took it upon himself to mail out flyers of an old photo of him without his consent. This misconduct and illegal representation of Mr. McClain as a supporter of Mr. Rivera deserves a public apology to Mr. McClain and his family."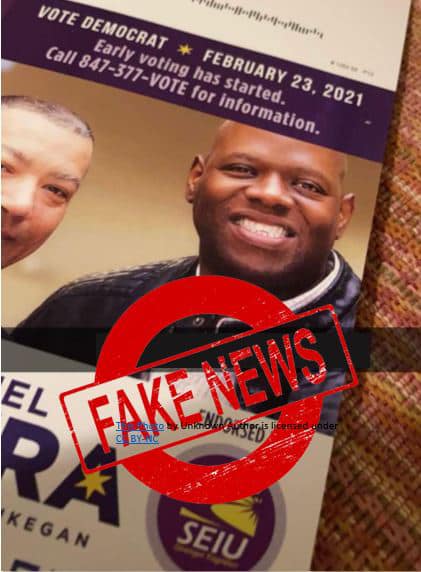 It is clear that Rivera should issue the apology and might be liable should Mr. McClain decide to pursue litigation in this matter.